Há exatos 11 anos, o segundo álbum de Avril Lavigne, Under My Skin, chegou ao mercado! É, eu sei! Parece que foi ontem que ele atingiu o mundo, trazendo uma coletânea de doze faixas inéditas e consolidando a carreira da cantora como um dos maiores ícones da música pop rock dos anos 2000.
É claro que isso não podia passar despercebido e cá está nossa resenha de um dos (se não o) álbuns favoritos dos fãs de Avril Lavigne!
Under My Skin marca uma leve mudança de estilo e um distanciamento do pop delineado por Complicated e I'm With You, tornando-se um dos mais populares por seu estilo autêntico e pelas letras substanciais. A própria Avril declarou isso na época:
"Há mais conteúdo nas letras. É mais profundo […] É mais emocional e eu acho que é porque sou mais velha e consigo me expressar melhor agora." – Lavigne, para a AskMen em 2005.
E existe uma grande harmonia entre as três grandes áreas do álbum: letra, melodia e imagem… Olha só:
A capa traz uma Avril Lavigne sombria, em preto e branco e com um único X no braço, vermelho marcante.
 O interior do encarte traz fotos com uma postura mais roqueira menos amigável. E ao contrário de Let Go, Avril está completamente sozinha na arte deste álbum.
A foto do meio do encarte mostra Lavigne sozinha em um lugar que se parece com um hospício.
Quanto ao álbum, vamos às curiosidades mais marcantes:
– Under My Skin é classificado como post-grunge, alternativo, pop-punk e, acreditem se quiserem, gótico. Na época, Avril Lavigne foi comparada com Amy Lee, da banda Evanescence.
– Ele foi fortemente produzido por Don Gilmore, Raine Maida e Butch Walker.
Don Gilmore (que quase nunca tira foto) no centro.
 e Raine Maida (que não envelhece)
– Butch Walker também trabalhou com Avril nos álbuns The Best Damn Thing e Goodbye Lullaby.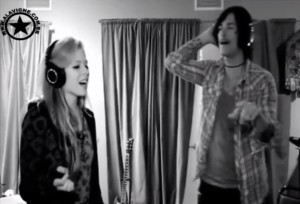 Avril e Butch (anos depois, gravando Stop Standing There)
– Ele já entrou nas paradas com número 1 de vendas.
– Avril compôs grande parte do álbum com Chantal Kreviazuk, e grande parte das gravações foi na casa dela em Malibu.
Chantal Kreviazuk é a esposa de Raine Maida. (Ela e Avril são brigadas. Você deve ser lembrar dela da época de The Best Damn Thing. Ela acusou Avril de plágio por Contagious. Isso antes de ouvir o álbum! Depois de anunciar na mídia que Avril havia roubado a faixa que elas produziram juntas e lançado sem lhe pagar os direitos, ela finalmente escutou a canção e viu que a Contagious não tinha nada em comum com a que compuseram juntas… Exceto pelo nome! Que mico!)
– Avril Lavigne também trabalhou em parceria com Ben Moody, ex-Evanescence, na composição de Nobody's Home.
Ben Moody à esquerda (Apenas eu não consigo imaginar esse cara escrevendo Nobody's Home?)
– A turnê foi nomeada Bonez Tour, pois, de acordo com Lavigne, Under My Skin (sob minha pele), há bones (ossos).
Cartaz da Bonez Tour
– A turnê, Bonez Tour, veio ao Brasil e o show de São Paulo foi o maior show da carreira de Avril.
– Além dos quatro singles que chegaram ao Brasil, Fall to Pieces foi lançado como single nos Estados Unidos e Take Me Away no Canadá e na Austrália. Take Me Away foi lançado antes mesmo de Don't Tell Me.
– Para promover o álbum, Avril saiu em uma mini turnê chamada Live and By Surprise, passando por 21 shoppings nos Estados Unidos e Canadá. Os shows só foram anunciados 48 horas antes e ocorreram na semana em que Don't Tell Me foi lançado.
Avril foi apenas acompanhada de Evan e os dois cantaram acústicos de cinco canções do álbum.
Vamos ao que interessa! As faixas, até então, inéditas:
Take Me Away
Take Me Away é uma das faixas mais agressivas da carreira de Avril. É intensa, introvertida, furiosa e fala muito sem nos contar nada. Ela fala de um segredo que não pode ser contado, de solidão, de um problema que não pode ser resolvido… Não dá para ter certeza de se ela está falando de um amor que acabou ou de alguém que a feriu. Em alguma esfera, todo mundo se identifica com essa canção exatamente por isso: por ser muito genérica. Ela leva 5 estrelas por trazer Avril Lavigne em sua melhor forma e por nos propiciar com uma faixa de abertura única.
Together
Essa faixa segue a linha de Take Me Away: versos que exploram os vocais e refrões explosivos. É provavelmente uma das faixas mais rock de Avril Lavigne. E está muito bem posicionada: ao mesmo tempo que mantém o ritmo da canção anterior, ela prepara o terreno para Don't Tell Me. A letra é sobre aceitar o fim – aceitar que aquele relacionamento não funciona mais e que é hora de seguir em frente. É interessante que uma faixa que se chama "Juntos" fale exatamente sobre "seguir caminhos separados". Seu piano, até então novidade para Avril, é uma boa escolha, mas os refrões explosivos ficam um pouco cansativos depois de algum tempo… Por isso as quatro estrelas.
Don't Tell Me
Don't Tell Me foi o primeiro single do álbum e marcou uma nova fase da carreira de Avril: ela não era mais uma menina skatista que levava a vida como uma brincadeira, mas uma adolescente com sentimentos reais e que se machuca em cada uma de suas brincadeiras. A faixa fala sobre homens que te chamam para sair pensando em te levar para a cama, como se levantar contra fazer o que não quer… O que faz dela um hino feminista. E o título Don't Tell Me ("Não Me Diga") representa, de fato, "Não me dê ordens". O vídeo, um dos melhores de Lavigne, traz a cantora mais sombria, quebrando espelhos e aparentando nada mais que um fantasma perseguindo o rapaz com quem acabou de terminar.
É interessante notar como Don't Tell Me prega o contrário de Give You What You Like (2013). De um lado, temos um hino sobre respeito a si mesmo, e do outro, uma auto-estima baixa e necessidade de aprovação.
Seu refrão e sua bridge cheia de fúria ("Any thoughts of you and me have gone away!") estão provavelmente entre os 5 melhores de Avril Lavigne. Onde ela peca então? Avril Lavigne nunca parecendo realmente empolgada cantando esta canção, o que faz com que falte um pouco de sentimento em sua performance.
He Wasn't
He Wasn't é provavelmente uma das faixas mais divertidas e mais deliciosas de Avril Lavigne. Ela abre com guitarras marcantes que deixam uma mensagem clara: essa é uma canção pop punk. Seu toque líder-de-torcida e atitude moleca nos leva de volta a Let Go ao mesmo tempo que anuncia The Best Damn Thing. De fato, o que faz dela uma faixa excelente é exatamente a escolha do momento perfeito. Se fosse lançada no álbum seguinte, teria passado despercebida.
O clipe é um dos melhores vídeos de Avril Lavigne, com direção refinada e produção de primeira (ela ganhará sua resenha em breve, mas não conta para ninguém!). O que não deixa que ela chegue a 5 estrelas? Vamos combinar… A letra de He Wasn't não é uma das melhores de Avril…
How Does It Feel
How Does It Feel é uma das faixas que causam reações intensas. Metade do tempo você a ama, e na outra metade, sente raiva de Avril por nunca tê-la tocado ao vivo. No álbum, ela age como um prelúdio do que virá em Fall To Pieces: uma Avril mais sensível e mais exposta… Algo que só veremos de volta em Goodbye Lullaby (2011). A letra pede compreensão: gostaria de entender você e gostaria que me entendesse também. O velho sentimento de I'm With You está de volta em "Você me confortaria? Você choraria comigo?"
O ponto fraco é que, assim como Together, ela peca pelo excesso. Se fosse mais curta talvez…
My Happy Ending
É inegável que My Happy Ending é a faixa mais famosa deste álbum e provavelmente uma das maiores composições da carreira de Avril. Ela tocou incansavelmente nas rádios da época e apareceu em filmes e seriados de TV. Foi até mesmo eleita "A melhor faixa para fim de namoro". E tal sucesso é merecido. Se existe uma faixa de Avril Lavigne a qual eu nunca recomendaria retoque, seria My Happy Ending. Os versos são simples, exploram o vocal; a bridge constrói para um refrão explosivo e bem mixado e o trecho antes do refrão final: jovem Avril Lavigne subindo o tom como sempre prometera mas nunca fizera. O vídeo é nota 10 e o resultado: 5 estrelas e um hit.
Nobody's Home
Nobody's Home é provavelmente uma das favoritas dos fãs. São tantos motivos que é difícil saber por onde começar: Ben Moody, ex-Evanescence, compôs com Avril; a canção é melódica e temos um vocal mais trabalhado e menos estridente; é a primeira letra dela que não fala sobre si mesma e um rapaz, mas sobre uma amiga que se perdeu na vida. As jovens roqueiras da época se viam nesta canção: incompreendidas. Há um sentimento meio emocore ali no meio (que ninguém me ouça!) O clipe traz uma nova Avril Lavigne, de vestido, de peruca e sem saber para onde ir. Sempre surge a dúvida de quanto da verdadeira Avril Lavigne estava ali. Nobody's Home pode não ter sido um dos grandes hits da carreira de Avril, mas chegou muito perto. E as quatro estrelas são pela letra que podia ser melhor. Afinal, rimar home com home no refrão é fácil, senhora Kroeger!
Forgotten
Forgotten é a faixa mais sombria que Avril Lavigne escreveu e as referências góticas a la Amy Lee são gritantes aqui. Ela é uma irmã de Take Me Away no quesito atitude, mas é menos comercial que a faixa de abertura. Embora a letra seja intensa, os vocais ficam um pouco estridentes em certo ponto e você se pergunta como ela não se cansa ao cantar isso ao vivo. Ainda assim, contribui muito para o conceito do álbum. Sim, este álbum é praticamente conceitual.
Who Knows
A melodia de Who Knows soa familiar. Você tem a sensação de que já a ouviu em algum lugar, mas não sabe onde. Dizem que boas músicas causam isso nas pessoas…
Os vocais lembram um pouco Let Go e algumas frases são terminadas com um leve desafino. É, de certa forma, bem orgânica e parece uma faixa ao vivo. É difícil captar a mensagem de Avril nesta canção. Parece uma ode à adolescência, mas, ao mesmo, uma mensagem de "faça o que quiser" e "seja positivo". Talvez seja isso: toda essa mistura. No fim, fica aquela sensação de o quão inspirada Avril realmente estava quando a compôs…
Fall To Pieces
Fall To Pieces é um dos auges do álbum, junto com Take Me Away e My Happy Ending. É um pouco estranho ouvir Avril Lavigne, aquela skatista que chuta os rapazes e que não parece se importar com ninguém assumir que tem sentimentos (algo que ela só faria novamente em Wish You Were Here, 2011), mas a forma como ela faz chega a ser de partir o coração. Não apenas ela admite que gosta, como pede para que não acabe ali. Seu potencial comercial foi baixo e o lançamento de seu vídeo foi cancelado, ainda assim, ela foi single nos Estados Unidos e fez história com os fãs.
Freak Out
Freak Out é parceira de Who Knows no quesito letra que fala pouco, o que pesa no lado negativo da balança. É notável que Avril teve mais liberdade para compor sozinha ou com amigos (algo que, vamos ser sinceros, ela não teve em Let Go), pois algumas canções refletem claramente seu conhecimento musical na época: bom, mas razoável se comparado com aonde ela chegaria. É impossível não se apaixonar por aquelas guitarras e ao imaginar que ela, Matt (baterista na época) e Evan compuseram tudo sozinhos.
Slipped Away
Slipped Away encerra o CD de forma triste, algo que se repetiria por todos os seus álbuns seguintes (The Best Damn Thing termina com Keep Holding On, Goodbye Lullaby com Goodbye, e Avril Lavigne com Hush Hush). Ela é uma carta de Avril para seu avô que faleceu quando ela estava em turnê. É seu desabafo por não poder dizer adeus a ele pessoalmente. Os pianos são tocantes e o refrão tem um impacto muito parecido com o causado por Goodbye (2011). Avril Lavigne em sua melhor forma.
– O que é importante notar?
O conceito
É impossível deixar de notar que, embora o álbum não seja oficialmente conceitual, ele constrói uma história do começo ao fim, indo da fúria à superação. Começamos com Avril furiosa com algo que a incomoda (Take Me Away), passamos por sua constatação de que o fim é iminente (Together), seu término (Don't Tell Me), a tentativa de se convencer de que não valia a pena e que ela estava certa (He Wasn't), suas indagações sobre como se sentia e o que precisava melhorar em si mesma (How Does It Feel), seus questionamentos sobre o fim e sobre o legado do relacionamento (My Happy Ending), a raiva que toma de seu ex namorado (Forgotten), seu reencontro da positividade e de sua maneira feliz de ver a vida (Who Knows), sua tentativa de reatar e consertar tudo (Fall To Pieces) e, por fim, sua constatação de que existem coisas mais importantes na vida e que um término não se compara em nada com perdas maiores (Slipped Away). O álbum inteiro conta o ciclo e o amadurecimento de Avril Lavigne. A skatista morre em Take Me Away e a garota que se tornaria a mulher de Goodbye Lullaby nasce ao fim de Slipped Away.
Under My Skin é, de certa forma, um conto sobre terminar com alguém e todos os ups and downs que vem com o fim. Cada melodia reflete sua intenção e isso é o mais marcante sobre o álbum: nada nele é distoante.
Os singles
Uma vez, Avril Lavigne disse que a escolha de Losing Grip como o último single de Let Go foi baseada no fato de que ele representava bem o material do álbum que viria a seguir. De fato, foi uma declaração muito sensata, pois a faixa de abertura de Under My Skin, Take Me Away, traz uma batida agressiva muito parecida com a do single mesmo. Isso sempre abriu espaço para a reflexão sobre a escolha dos singles, não apenas como fatores comerciais, mais conceituais também.
Neste álbum, temos cinco singles: Don't Tell Me, que se encaixa perfeitamente ao cenário pop da época e traz de volta a mensagem brigona de Avril Lavigne; My Happy Ending, que é o hit single do álbum e um dos maiores singles de sua carreira; Nobody's Home, amada por pessoas que sequer gostam de Avril Lavigne; Fall to Pieces, que havia sido originalmente previsto como single mundial, mais foi lançado apenas nos Estados Unidos; e He Wasn't, com um vídeo excelente.
O ponto fundamental que sempre chama a atenção é a escolha de He Wasn't. Muitos fãs se divertiram com a canção, mas não muitos notaram que, na verdade, ele fizera o mesmo trabalho que Losing Grip: focou pouco em si mesmo e mais no trabalho que viria a seguir. He Wasn't não foi uma proposta ambiciosa em si. Seu objetivo era anunciar a mudança de estilo que viria com o próximo single, Girlfriend, que anunciou para o mundo, uma nova e maior Avril Lavigne.
He Wasn't marca o nascimento da nova Avril Lavigne.
– Onde o álbum erra?
Na verdade, o ponto positivo e o negativo do álbum caminham juntos. Under My Skin é mais orgânico que qualquer outro álbum de Avril Lavigne (embora ela tente reproduzir isso em Goodbye Lullaby, sua voz, ainda assim, foi alterada com peso em alguns momentos) e, como qualquer material mais cru, ele traz o prazer de ouvir sons mais originais e sem tanto corretor de voz (autotune)… O que também resulta em uma superexposição dos defeitos. Em vários momentos, podemos notar desafino de Avril, que não foram corrigidos. Embora ela tenha melhorado muito desde Let Go, este álbum se esforça menos em esconder as imperfeições.
Independente dos pontos negativos, Under My Skin é, provavelmente o álbum mais sincero de Avril Lavigne, não por se tratar de histórias reais, mas por trazer sentimentos menos engarrafados e até mesmo um pouco contraditórios em alguns momentos. Sua cabeça estava um turbilhão com a fama e com os corações partidos… E este álbum explora cada pedacinho dela.
11 anos de Under My Skin: 11 anos de fãs felizes.
Se eu vou recomendar algum vídeo para matar a saudade? Claro que vou! Olha My Happy Ending aqui: