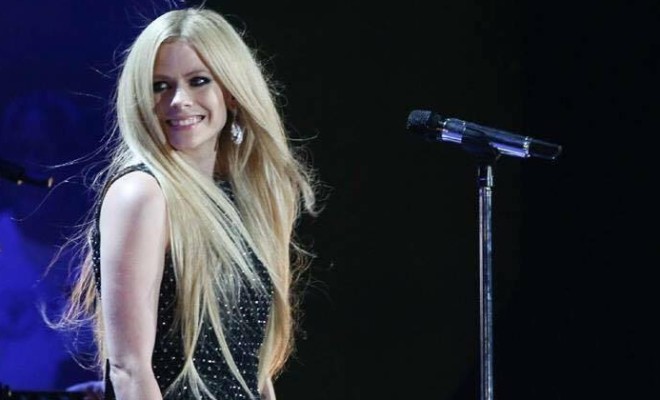 Lançada em 16 de abril deste ano, Fly é o primeiro single de Avril Lavigne não conectado a um álbum, totalmente voltado para a caridade e focado em sua fundação, a Avril Lavigne Foundation. A faixa visa apoiar o Special Olympics World Summer Games e foi escrita por Lavigne, seu marido, Chad Kroeger, e David Hodges, que também trabalharam massivamente em seu último álbum de estúdio, Avril Lavigne (2013).
Muito bem recebida pelos fãs brasileiros, Fly marca o retorno de Avril Lavigne ao cenário musical após cinco meses sem notícias e quase um ano desde sua última performance musical. Como todos já sabem, o desaparecimento foi causado pela batalha de Avril contra a Lyme Disease.
(Na foto, Avril Lavigne durante as gravações do vídeo de Fly)
Por sua singularidade, Fly é o alvo da nossa análise da vez. Aperte o cinto e se prepare!
(A capa de Fly foi criada por fãs, após um concurso na internet)
O instrumental
Fly é baseada em piano, violões e cordas. Uma combinação que nos leva de volta à Innocence e Keep Holding On e nos faz lembrar das baladas de seu terceiro álbum, The Best Damn Thing (2007). Lavigne diz ter composto a faixa durante a produção de seu último álbum, Avril Lavigne (2013). Dois fatores que comprovam isso são os backing vocals masculinos, recorrentes no último álbum graças à presença de Chad Kroeger e David Hodges, e os vocais menos agudos e mais afinados: um traço que Avril carregou consigo desde sua jornada introvertida com Goodbye Lullaby (2011). A faixa causa um leve estranhamento ao migrar do corpo da música para o refrão: ela reproduz o efeito de Alice ao casar violões mais agressivos com um piano grave. Sem dúvida, um efeito intencional.
Os vocais
Fly traz Avril Lavigne em ótima forma. Existe um misto de ingenuidade e força no qual os versos mostram um certo tipo de carinho, cuidado, e o refrão explode, como se Avril tentasse fazer de sua voz o empurrãozinho para o ouvinte tomar sua decisão. Os backing vocals estão maravilhosamente sincronizados e a produção vocal é de primeira. São raras as ocasiões onde Lavigne encontrou uma equipe que fizesse um uso tão bom de sua voz. Ela até mesmo abandona os instrumentos e foca apenas nos vocais pouco antes do último refrão. O que faz falta? Os picos tão característicos de Avril Lavigne que marcam faixas de sucesso como When You're Gone e Innocence, onde ela solta a voz e aposta no que tem de melhor: os agudos. Fly traz alguns agudos de Avril Lavigne no final, mas nada muito ousado.
A letra
É impossível falar de letra de Fly e não traçar um paralelo com a de Keep Holding On, de seu terceiro álbum. Embora alguns fãs e sites tenham feito análises comparativas das duas faixas, é importante lembrar que elas, de fato, são mais "complementares". Fly apresenta um refrão com letra robusta e repetições marcantes, mas versos (em especial o verso de abertura) potencialmente mais fracos. Um exemplo disso é a contradição logo no início que diz, ao mesmo tempo, que: 'a luz que temos dentro de nós não está oculta e é fácil de encontrar', mas compara encontrá-la com encontrar um diamante (quando diamantes são bastante raros). Além disso, alguns momentos caem na armadilha do cliché motivacional: "Just reach up, don't give up, until you touch the sky" soa bonito, mas já foi cantado e escrito tantas vezes que não surpreende mais.
Keep Holding On é o exato oposto. Ela tem versos mais consistentes, mesmo que mais curtos, em contraste com um refrão repetitivo e com rimas menos elaboradas. É importante ressaltar que, apesar de tudo, Fly representa sim uma evolução de Avril Lavigne no quesito composição, especialmente a frase "A single step becomes a leap of faith". Pontos para Lavigne! Além disso, Keep Holding On foi produzida por Dr Luke que, concorde ou não, é um dos maiores produtores musicais da atualidade (talvez empatado com Max Martin). Avril Lavigne manteve seu selo de qualidade trabalhando com uma equipe muito menos renomada.
O vídeo
O vídeo de Fly é uma coletânea de cenas de atletas deficientes praticando para o Special Olympics (que é, afinal, a razão da canção ter sido lançada). Avril Lavigne disse que o objetivo do vídeo é que os protagonistas sejam os atletas e não ela, o que é uma atitude interessante além de uma sábia decisão. Ela ainda não estava em perfeita forma para gravar após sua doença e alterar o foco foi uma boa maneira de driblar o problema. Dois fatos relevantes que garantem ao vídeo uma boa avaliação são, primeiramente, o retorno de Avril Lavigne ao estilo de The Best Damn Thing (seu álbum de maior sucesso até o momento) e a sua repercussão na mídia. Até mesmo cantores alvos de polêmica com Avril Lavigne no passado, como Britney Spears, apoiaram sua iniciativa e divulgaram seu trabalho. Fly une fã-clubes.
A apresentação
(Avril Lavigne na abertura do Special Olympics Games)
O último ponto para analisar é a performance de Fly na abertura do Special Olympics Games. Avril retornou aos palcos cercada de sua banda, instrumentos de corda e seu bom e velho piano. Desta vez, ela apenas se concentrou em cantar e declarou abertamente que voltar aos palcos era uma conquista pessoal. Foi bom ver Avril Lavigne de volta? Sim. Mas é notável que ela ainda não está forma como estava antes de adoecer. Quem compareceu às duas últimas turnês, The Black Star Tour (2011) e The Avril Lavigne Tour (2014) pode confirmar que Avril vinha demonstrando uma performance vocal como nunca vista. Ela cantava Alice a plenos pulmões, sem desafino, e puxava What The Hell a extremos que muitos duvidavam que ela pudesse capaz de fazer ao vivo. E embora ela tenha cantado afinadamente, a apresentação de Fly demonstra que Avril Lavigne ainda está em batalha contra sua Lyme Disease. Ela parecia não se entregar por completo e evitou atingir e manter algumas notas. Impossível saber se por medo de exagerar ante ao seu retorno, ou por ainda não estar em forma como antigamente. Foi uma performance simples e marcante, mas não foi o melhor trabalho de Lavigne.
Para encerrar, Fly leva 4 estrelas pelo que representa para os fãs, para a própria Avril e pela iniciativa que ela propõe ao chamar a atenção de milhares de Little Black Stars para a batalha travada todos os dias por jovens deficientes ao redor do mundo. Talvez a faixa não entre para o cânone de Lavigne ao lado de My Happy Ending e Girlfriend, mas ela sempre terá seu lugar especial no coração dos fãs que, ao que parece, o objetivo de Avril Lavigne no momento.
Ficou com saudade do vídeo? Olha ele aqui!