Há exatos 10 anos (sim, estamos ficando velhos!), Avril Lavigne fazia seu primeiro show no Brasil, como parte da Bonez Tour, que divulgava seu segundo álbum, Under My Skin. No dia 21 de setembro de 2005, Avril tocou no Rio Grande do Sul para uma plateia de 11 mil pessoas.
Hoje, nós revivemos seu primeiro show no Brasil!
Vamos aos fatos, como de costume:
– A turnê foi nomeada de Bonez Tour (Turnê Ossos) porque, de acordo com Avril, Under My Skin (Sob minha pele), há ossos.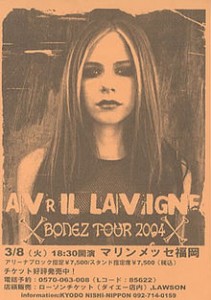 (cartaz da Bonez Tour na Ásia)
– A turnê também marcou a última aparição de Matt Brann (baterista), Charlie Moniz (baixista) e Craig Wood (guitarrista) ao lado de Avril.
– Devin Brown também deixou a banda ao fim da turnê, mas ele se reúne a Avril para vídeos e shows esporadicamente.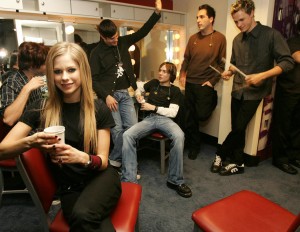 (Avril e sua banda, da turnê de 2005)
– O primeiro show no Brasil aconteceu no Gigantinho, em Porto Alegre.
– O preço dos ingressos foi de R$80,oo (arquibancada/pista) a R$140,00 (cadeiras numeradas).
– Avril teve escolta da polícia desde o aeroporto até o hotel.
– Ela ficou em seu quarto praticamente o tempo todo.
– Ela exigiu que o quarto tivesse toalhas pretas e brancas, televisão tamanho gigante e um microondas para poder preparar sua própria comida.
– Ela apareceu com seus cachos louros ao invés do cabelo super liso que tinha adotado desde 2002.
– Antes do show Avril deu uma coletiva de imprensa no hotel, entrevista para Record e Rádio Atlântica.
Como assim? Você nunca viu essas entrevistas? Dá uma olhada aqui:
E aqui:
– Sim, existia vida antes do famoso Meet & Greet do ano passado. Em 2005, Avril recebeu alguns fãs ganhadores da promoção da Rádio Atlântica, onde deu autógrafos e tirou fotos com eles.
– Em Porto Alegre, o setlist foi o seguinte:
– Na Bonez Tour vimos Avril trocando o microfone pela bateria pela primeira vez. Ela assumiu o instrumento durante a Song #2, que é um cover da banda Blur.
O que foi bom e o que não foi?
Os shows foram excelentes. Estádios lotados, cartazes pregados pelas ruas, e uma performance bem agitada. Embora Avril Lavigne ainda não tivesse a desenvoltura que desenvolveria em suas futuras turnês, ela estava mais confortável no palco do que em 2003, e já conversava um pouco mais com os fãs. No Brasil, ela aprendeu frases como "e aí, galera?" para se conectar melhor com seu público e fez, como de costume, suas variações no setlist.
Outro ponto positivo foi a seriedade da turnê. Under My Skin é, até o momento, o álbum mais sério e mais sombrio de Avril Lavigne, e a turnê manteve o mesmo humor. Embora apresentasse faixas felizes como He Wasn't e I Always Get What I Want, Avril manteve canções como Forgotten, Fall To Pieces e Take Me Away nos shows e se esforçou para representar a seriedade delas. The Bonez Tour foi a última vez em que os fãs de Avril Lavigne a viram como pop rock de verdade.
O que deixou muita gente curiosa na época não foi Avril nos palcos. Os fãs e a mídia elogiaram as apresentações da cantora, mas vez ou outra ouvíamos comentários do tipo "Por que Avril Lavigne está trancada em seu quarto?". Muitos se perguntavam porque Avril não havia saido para conhecer o Brasil: as praias, as comidas,… Talvez ela não estivesse tão interessada, ou não quisesse se arriscar saindo pelas ruas estando no auge de sua fama (assim pensava-se, até o lançamento de Girlfriend, em 2007), ou talvez ela estivesse cansada demais. Nas entrevistas no Brasil, vez o outra Avril mencionou como estava cansada e como aproveitaria o descanso merecido quando terminasse a turnê, que se encerrou aqui. Além disso, naquela época, ela já estava noiva de seu primeiro marido, Deryck Whibley, e provavelmente já estava com a cabeça em seu casamento.
Independentemente da polêmica da época, Avril estava até mesmo mais aberta à mídia do que estaria nos anos seguintes. Ela deu várias entrevistas, recebeu fãs e teve alguns dos maiores show de sua carreira aqui no Brasil.
Bateu saudade?
A equipe ALBR juntou vídeos da performance em Porto Alegre para vocês! Dá uma olhada aqui:
Sk8er Boi – Mobile – I'm With You – Losing Grip – He Wasn't – Song 2 – Trechos
Alguém aqui esteve nesse show? Poste nos comentários como foi para você, se ainda tiverem, postem fotos e vídeos!!